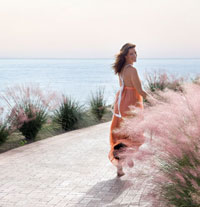 Restaurant, hotel, and spa reviews plus narrative features on travel and wellness trends and destinations around the world.
Breastfeeding: A Case Study in Marketing (Forbes, 4/12/13) – A look at the marketing and uptake of breastfeeding over the years.
Comfort Food Is Real (Good, 9/20/12) – Analysis of a new study that pinpoints the mood-boosting benefits of certain foods.
Forgive to Live (Good, 8/23/12) – Feature on the physiological benefits of forgiveness.
Food Trails (Go, 07/01/2011) – A piece on Napa Valley's olive oil trail.
Natural Healing (Sunset Magazine, 11/1/2010) – Travel news article about a handful of new spas located in or near national parks.
Monachyle Mohr (Afar, 3/1/2010) – Review of farm-based B&B in Scotland.
The Healing Waters of Jordan (Spa Magazine, 07/01/2010) – The waters of Jordan, from its namesake river to the Dead Sea, are rich with history and natural cures.
Find Your Natural Rhythm (Spa Magazine, 01/01/2010) – Travel feature on a new eco-resort in Southern California.
Fodor's Hawai'i (Fodor's Travel Guides, 10/1/2006 – 10/1/2010) – Excerpts from Big Island chapter of Fodor's 2006 Gold Guide to Hawai'i, and entire Big Island Fodor's guide.
2008 Extra Mile Awards (Budget Travel, 09/1/2008) – Round-up feature on the travel services and companies going the extra mile for consumers.
Weekend in Wine Country (Spa Magazine, 9/1/2009) – Travel feature on how to plan a weekend in California Wine Country that doesn't revolve around wine.
Green Travel Quotient (Executive Travel, 3/1/2009) Feature for "green" issue of Executive Travel magazine focused on helping business travelers (and business travel planners) determine the environmental and social impact of their travel and how best to reduce it.
Hawaii's Hidden Values (Conde Nast Traveler, 7/1/2008) – Insider tips on hidden values on the Big Island of Hawaii.