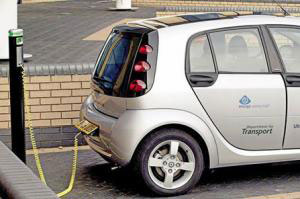 Analysis of the latest cleantech, environmental health, policy, and sustainable food trends, plus profiles and interviews with leading green luminaries.
Las Vegas Gambles on a Future with Car-Sharing for Everyone (Smithsonian Magazine, 10/02/13)
Trader Joe's, Aldi, Whole Foods Opt Out of GMO Seafood (Forbes, 03/20/13)
Exclusive: New Research Links Chemical Regulation to Market Innovation (Forbes, 02/13/13)
What You Won't Hear in the Presidential Debates: Conservative Solutions to Climate Change (Good, 10/17/12)
The Military's Green Tech Strategy (Forbes, 02/06/12)
Three Important PR Lessons from this Week's Komen, Sierra Club Scandals (Forbes, 02/02/12)
The Pinkwashing Debate: Empty Criticism or Serious Liability? (Forbes, 11/04/2011)
As Report Reveals Toxic Ingredients in Baby Shampoo, Johnson & Johnson Goes Public with Plans to Clean Up Products (Forbes, 11/01/2011)
Fox News Inspiring Climate Science – A look at how Fox News coverage of climate change has inspired climate scientists to conduct new research (Forbes, 07/22/2011)
New and Improved Safe Cosmetics Act Could Boost Green Chemistry – An explanation of the Safe Cosmetics Act of 2011 and its potential implications (Forbes, 06/27/2011)
Plastic by Any Other Name – Investigative report on Coca-Cola and Pepsi's plant-based bottles (Slate.com)
Conversation: Janine Benyus – A Q&A with biomimicry queen Janine Benyus (Earth Island Journal, 03/01/2011)
Don't Be Afraid of the Dark: The Surprising Link Between Light Pollution and Cancer (Good, 02/18/2011) – Light pollution disrupts the circadian rhythm of humans, plants and animals, causing an assortment of problems. Research is increasingly revealing a link between light at night and various hormone-related cancers, such as breast and prostate.
Rooftop Pipe-Dream (Slate, 02/12/2011) – Small wind is booming, but rooftop units are still a pipe dream.
Shale Goes Global (Slate, 11/22/2010) –  The U.S. is leading a global natural gas boom; what it does with that responsibility could have major geopolitical and environmental implications for decades to come.
Bringing Fresh Choices to an Urban Food Desert (Bay Citizen, 9/13/2010) – A look at the efforts to bring food outlets to West Oakland as a microcosm of the larger food desert debate in the United States.
Web of Destruction (Earth Island Journal, 9/1/2010) – A look at the impact of the BP Spill on the Gulf food web.
Toxic Baby Shampoo and Other Horrors (Care2, 7/15/2010) – Short piece on the Safe Cosmetics Act and Annie Leonard's Story of Cosmetics.
Generic Foods Investigation (The Faster Times, 7/6/2010) – A series of investigative pieces delving into private-label foods. Series was produced with the help of readers via a new take on crowd sourcing.
Battle in California over Potential Health Risks of Smart Meters (SolveClimate, 6/9/2010) – Coverage of the ongoing battle public health advocates are waging against the rollout of smart meters necessary to build a smart grid in California.
Green House Effect (Angeleno, 3/1/2010) – Round-up of three eco-friendly, but luxurious, remodels in Los Angeles.
Unrealized Potential (Sustainable Industries, 11/1/2009) – A look at what will happen if the smart grid connects to dumb buildings.
Smart Energy Geek Fest: Energy Harvesting Meets Demand Response (Earth2Tech, 10/2/2009) A look at the potential of energy harvesting devices to meet the needs of various smart grid applications.
Nanotech: The Key to Storing Carbon? (Salon.com, 7/30/2009) – A look at potential nanotechnology solutions related to geologic carbon sequestration.
Turning Solar Fantasy into Reality: Desertec Part Deux (Earth2Tech, 7/17/2009) – An investigation
of the massive Desertec solar project.
Cities Strivng to Be Green (BusinessWeek, 5/19/2009) – Quick breakdown of the best cities in the U.S. to start and run a cleantech compay.
Green Cities Report (Living Cities, 5/15/2009) – Comprehensive look at sustainability initiatives in U.S. cities, with an eye to suggesting policies that have the best chance of both curbing climate change and offering pathways out of poverty. Report was written and researched for Living Cities, a collaborative of 21 of the world's largest financial institutions.
Next-Generation Green (Consumers Digest, 4/1/2009) – Feature on trends in green technology and the sorts of cleantech products consumers can expect to see in the marketplace in the next two to five years.
Seeing Green: And Why It Matters to Your Business and Clients (California Association of Realtors, 9/1/2008) – Feature on the profit potential of green homes for both home-owners and realtors.
How (not) to Sell Out (Sustainable Industries, 12/1/2007) – An in-depth look at the ins and outs of buyouts in the world of mission-driven business.
Robert Kennedy, Jr. Interview (Sustainable Industries Journal, 9/1/2006) – An interview with Robert Kennedy, Jr. that covers his stances on a variety of environmental issues.
The Blue-Green Revolution (Plenty, 3/1/2006) – Technology feature covering deep sea water technologies and how they may be used to reduce energy loads and costs, as well as to facilitate sustainable agriculture, improve human diets, and even reduce signs of aging.