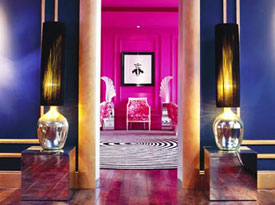 Features and newsy bits on everything from SoCal-influenced architecture in China to shrinking arts coverage in America's newspapers
Chic-ing Shelter (Angeleno, 3/1/2010) – Profile of the L.A.-based starchitects behind popular design firm Standard.
Derailed Design – (Angeleno, 7/1/2009) – A look at what's happening to L.A.'s high-end design market during the recession.
Aurel Schmidt (Planet Magazine, 4/14/2009) – Profile of New York-based artist Aurel Schmidt.
Heeb 100: Jeremy Stoppelman – (Heeb, 6/1/2008) – A profile of Yelp founder Jeremy Stoppelman.
El Perro Del Mar Leads Swedish Invasion in San Francisco (VenusZine, 5/18/2008) – Review of El Perro Del Mar concert with Lykke Li and Anna Ternheim opening.
Jean-Luc Godard: The Last Auteur – (Planet, 3/1/2008) – A feature on Jean-Luc Godard and his influence on film.
Designing Airports and Hotels of the Future (Executive Travel, 10/1/2008) – A look at the future of airport and hotel design with an emphasis on designs specifically geared toward business travelers.
Record Shopping with Donita Sparks (VenusZine, 3/1/2008) – An interview with former L7 frontwoman Donita Sparks conducted while shopping for records in L.A.
Remade in China – (Angeleno, 6/17/2008) – Feature about Chinese real estate developers hiring L.A. architects to recreate SoCal in China's suburbs.
How Nelly Got Her Groove Back (Karma Magazine, 10/1/2007) – Cover feature on Nelly Furtado.
Recycling Rio – (VenusZine, 6/1/2007) – The Coopa-Roca collective is knitting its way from Rio's slums to New York's catwalks.
Stop Shopping (The Fempire, 11/15/2006) – Feature covering the financial mess of young American women and the dangers of excessive consumption.
Dressing up a Mall (Metropolis, 1/1/2005) Short piece on the renovation of a high-end mall in Seoul Korea.
Overdesigned – (Core 77, 12/1/2004) – A comprehensive look at restaurant design in San Francisco.